Trimming Machine RAP 310
---
Trimming machine, electrically automatic, for shrubs, small trees and cones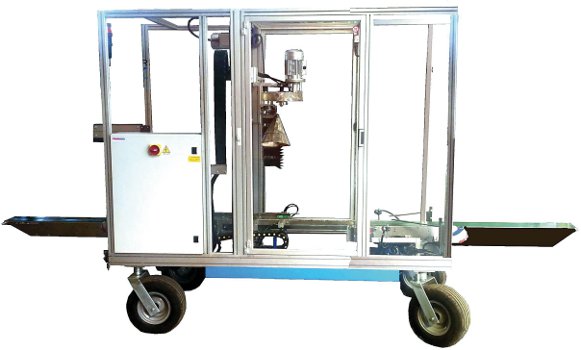 This machine is produced for plants with an abundant growth.
Its particular characteristic is that the plants need not to be revolved and the pots will be placed by automatic pincers in the right cutting position which reduces the risk of numerous breakpoints and permits the blade a perfect alignment along the crown.
The speed and the number of rotations of the blade are electronically programmable.
Curvature and length of the arched blade are mechanically adjustable.
Applicable for the cutting of shrubs, small trees and cones.
.
---
Features
Cutting height: Adjustable from 0 to 100 cm
Spherical cutting unit: Unit adjustable from 15 to 45 cm diameter and extendable from 3 to 5 cutting elements
Conical cutting unit: Adjustable unit extendable from 3 to 5 cutting elements for cones with a height of 15 to 60 cm
Motor: Electrically controlled by an inverter
Efficiency: Up to 1200 cycles per hour
Holding of the plant pots: The pots will be held and placed in the cutting area by pincers.
This means a great steadiness for the whole system.
---
Video
Here's our Trimming Machine RAP 310 at work.
Explore our YouTube channel to get to know other machines and see them at work
---