Trimming Machine RAP Carosel
---
Trimming machine, electrically automatic, with plates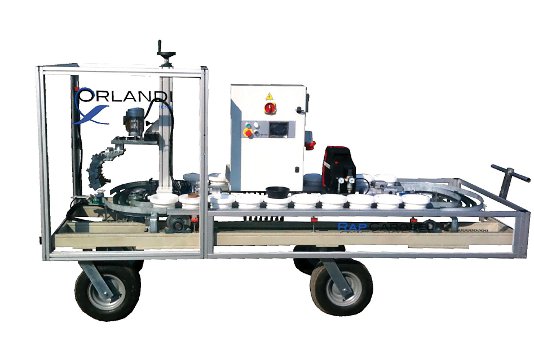 3000 plant pots per hour.
This machine works with plates for the movement of the plant pots which permits a very fast trimming cycle and guarantees a big stability of the pots and a high cutting precision.
You put the machine directly to the place where the plants shall be cut so that it can be loaded and unloaded from both sides very easily.
The position of the wheels permits an easy unloading in connection with a lifting ramp.
The system of adjustable blades with only one motor permits a very easy adjustment.
The PLC allows individual adjustments and an easy tele supported maintenance.
---
Features
Cutting height: Adjustable from 0 to 50 cm
Spherical cutting unit: Unit adjustable from 15 to 30 cm diameter and extendable from 2 to 4 cutting elements
Possible pot diameters: 9 to 20 cm
Power supply: 240 or 400 Volt. Control box with inverter operated motors and a PLC for all functions. Connection with tele support is possible.
Efficiency: Up to 3000 cycles per hour
Measurements:
Width 100 cm

Length 300 cm

Height 180 cm

Weight 220 kg
---
Video
Here's our Trimming Machine RAP Carosel at work.
Explore our YouTube channel to get to know other machines and see them at work!
---