Trimming machine RAP 205
---
Trimming machine, hand operated, with Honda engine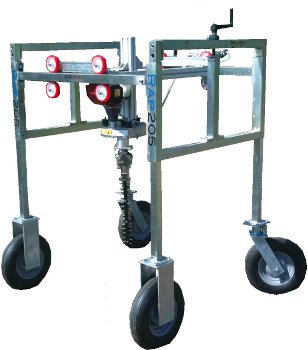 Trimming machine for wheeling over the plants with a combustion engine for the cutting system.
Base frame adjustable in height and width for wheeling over more than one row of plants.
Carrier with traversable cutting system.
Light and handy, permits the cutting of both spherical and conical forms with high precision and a high cutting rate.
Possibility of changing the blades from spherical to conical.
---
Features
Adjustable frame: Width from 120 to 220 cm - Cutting height from 0 to 110 cm
Spherical cutting unit: Unit adjustable from 30 to 70 cm diameter and extendable from 5 to 7 cutting elements
Conical cutting unit: Adjustable unit extendable from 5 to 7 cutting elements for cones with a height of 40 to 90 cm
Engine: Four cycle engine from Honda
Efficiency: Up to 400 cycles per hour
Centring device: Possibility of assembling mechanical pincers for holding and centring the stems
---
Video
Here's our Trimming Machine RAP 205 at work.
Explore our YouTube channel to get to know other machines and see them at work!
---